I'm "Better"
July 28th, 2021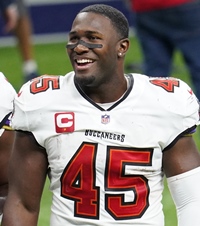 It shouldn't take Bucs fans long to guess what Tampa Bay linebacker is convinced he's better than two elite Bucs edge rushers when it comes to drilling quarterbacks.
Jason Pierre-Paul and Bucs sacks king Shaq Barrett are widely considered the best edge-rush tandem in the game. But for Devin White, he's a little more impressed by himself.
"I mean I think I'm a better pass rusher than those guys," White said today when asked about is pass rush goals.

"But at the end of the day, every time my number called, like I said last year going into the season, I want to be very dominant.

"I want to make my presence felt in the backfield. You know, I feel like my game is very versatile and I think that's a great part of my game. I don't have a goal of double-digit sacks, but man, if it comes with it, me playing hard and playing within the scheme, then I'll sure be very highly appreciative."
Joe really enjoys White's chatter. He's cocky but sincere, team-first but at the same time overflowing with ego.
Would Joe bet against White racking up 10 sacks this season, one more than he had last year? Absolutely not.