"Working With Tennessee Is Going To Be Fun"
June 10th, 2021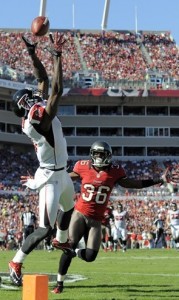 Yes, Julio Jones will help the Bucs for a change this year.
After mandatory minicamp today, Bucco Bruce Arians' focus turned to training camp kicking off on July 24.
One element missing from last year's Super Bowl team was the chance to practice against another team in preseason. The "joint practice," as it's known is beloved by many coaches not named Lovie Smith.
It gives teams a chance to have live, scripted work against real competition, minus the quarterback hitting and unpredictability of preseason games. And then those same teams play a preseason game a few days later.
The Bucs face the Titans on August 21 in Preseason Week 2 at The Licht House. Before that, the Bucs will square up with them at One Buc Palace.
"Working with Tennessee is going to be fun," Arians said. "Hell of a challenge to practice with them."
Of course, the Titans just traded for Julio Jones to complement their punishing ground game. And that represents a much greater challenge for the Bucs defense than Tennessee was two weeks ago before Julio was traded.
Jones gets hurt every year, but he's usually healthy in the summer. And this time he should be eager to impress his new teammates. So what a productive challenge ahead for the Bucs secondary. Arians is correct.
Damn, Joe is so fired up to have real football around the corner.