"It Felt Pretty Fresh"
June 10th, 2021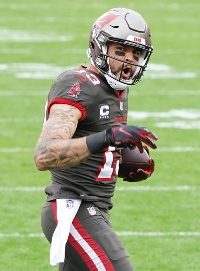 The greatest receiver in Buccaneers history was talking today.
Mandatory minicamp wrapped up and Mike Evans was talking about the offense "looking more dominant this year" and how everything looked great during the three days or practice before the long spring-summer break.
"It felt pretty fresh," Evans said of the offense being sharp and guys being in rhythm. "Nobody really got out of shape."
Personally, Evans says he may be better than ever.
"I feel great. I feel great," he said. " I'm just learning how to take care of my body better in the offseason. Working out more, working out smarter as well. I feel like that's been key. And I definitely feel a lot better than I have in the past in OTAs/minicamp."
Joe can't wait for Evans to roll up his eighth consecutive 1,000-yard receiving season, building on his NFL record of seven straight years to start his career.
Joe believes that one more 1,000-yard campaign this season, combined with his Super Bowl ring and what would be a six-year run of strong Bucs offenses, may be good enough to land Evans in the Hall of Fame without ever playing a down in 2022.