Shaq Details Elite Ways Of Bucs Coaches, Front Office
June 3rd, 2021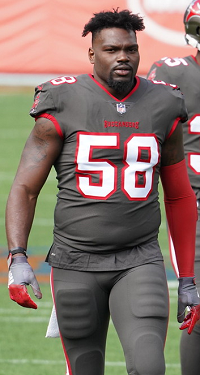 It's one thing for a player to give the tired one-liner that his organization is first-class. Yawn.
It's truly another thing when the player details why.
Bucs sacks king Shaq Barrett was in that role today, getting pressed on The Rich Eisen Show to explain exactly why he views Tampa Bay as a first-class franchise.
First, Barrett was clear that the Bucs are officially first-class because they have won. Per Shaq, you have to win to even be considered.
But everything else is perfect from Shaq's seat.
"We have a lot of coaches who played before, so they understand, you don't ask for unreasonable things in practice," Shaq said. "They don't want you to sit here and just do stuff that don't have no effect on the game.

"I've been to situations where they coached on every little thing, nitpicked everything. And it's good for some situations but the situation that we have down here; we all grown men. We know how we need to handle our business.

"B.A is a great coach, a players coach. He knows when to push the gas, when to push the brakes. The front office, they know like how to communicate everything down to us. They don't like sugarcoat anything. They keep it real with us. And that's the only thing you can ask for — 100 percent honesty."
Shaq went on to give an example of how an unnamed Bucs player's role was changed and coaches were brutally honest with the player and it was appreciated and respected.
Bucco Bruce Arians and Jason Licht have pushed all the right buttons since Tom Brady arrived and conquered. And Joe suspects that roll will continue.