O-Linemen Were Late Believers
June 16th, 2021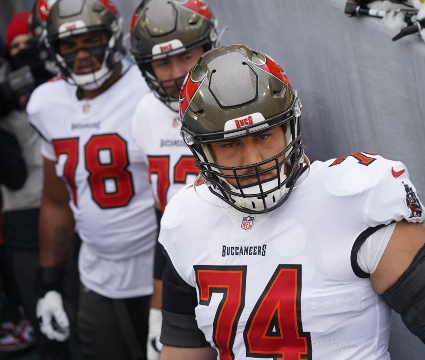 Little happens up in Elmira, New York, at least outside the state prison.
So it's no surprise that the pride of nearby Horseheads, Bucs offensive line coach Joe Gilbert, is a bit of a celebrity around his native land.
Gilbert, whose duties focus on the Bucs tackles, earned a Super Bowl ring and he was talking about the Tampa Bay experience with the local Star-Gazette newspaper.
Joe was intrigued a bit by Gilbert's chatter about linemen. It seems they weren't exactly steaming with confidence for much of the regular season.
The offensive line certainly did its job. What was your message to that group after the game?

Afterwards we were just all celebrating and having fun and giving each other a hug.

I think it came down to communication at the end. The guys, over I would say the last eight weeks of the season, including the playoffs, really started to come together. I think the realization that hey, this could really happen, started to sink in a little bit and I think that's where everybody's play started to pick up and come together, where we got a little bit closer and said, hey, this is feasible, guys. This could really happen.
When Joe thinks of the Bucs improving in 2021, Joe thinks of Tampa Bay taking a step up along the offensive line. Seriously, Tristan Wirfs should be more of a monster and make a classic, Year-2 leap. Alex Cappa and Ryan Jensen are in contract years. And per Gilbert's chatter, Donovan Smith and Ali Marpet should be playing with a lot more confidence out of the gate; and each will play this season at 28 years old, aka in their prime.
Better offensive line play should equate to more time of possession and more points. Joe's aching for the Bucs to raise their 30.8-points-per-game average up to 34 per game.
Hey, Brady exceeded that average in 2012 with the Belicheats, so why not in Tampa?