Bruce Arians: "Tom Checks In Every Week"
June 3rd, 2021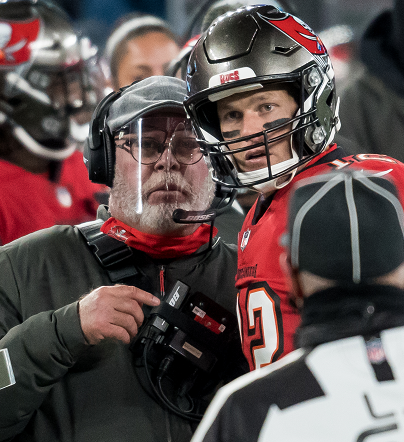 So what has the offseason been like for Tom Brady and Bucco Bruce Arians when it comes to their bonding and communication?
The head coach opened up.
Speaking on The Rich Eisen Show yesterday, Arians explained that draft prep has ended and he's not playing regular golf with his star QB and they're not burning up each other's phones.
"Tom checks in every week, so it's been a really good offseason for those [offensive skill players working with Brady privately]," Arians said. "I'm a little more concerned about our defensive backs because they're not doing what the offensive receivers and quarterbacks are doing."
Interesting nugget there about the secondary. Eisen pushed for details on what those "check-ins" are like.
"How's he feeling, is the biggest thing, how's the knee," Arians said of getting Brady's status. "He doesn't have a golf game right now, so it's not about his golf game. It's just checking in on him, how he's feeling, how he's doing, what his plan was for the week."
Arians said the Brady check-in is "mostly by text." Brady loves FaceTime, Arians added, but Arians isn't into it.
Joe suspects Brady and Arians will be back on the golf course soon enough and chatting it up, as Brady is less than five weeks from playing a round of golf on national TV.