Bruce Arians: 11-On-11 Work Unlikely For Brady
June 3rd, 2021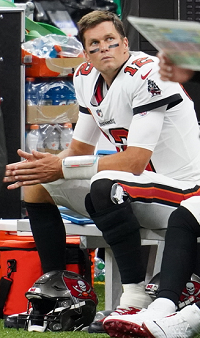 Mandatory Buccaneers minicamp kicks off on Tuesday.
No-pads football practice with the big-name players around, it's about as fun as it gets in the spring.
But what will it look like?
Bucco Bruce Arians shared that Tom Brady's healing knee may be healthy but he doubts it will get any kind of full test next week during the three-day affair.
"I gotta see that myself and talk to the doctors. But I don't think I'm going to let anybody chase [Brady] around," Arians told The Rich Eisen Show. "He'll probably do 7-on-7 and some other stuff. Just see how he feels."
Joe hopes Arians sticks to his gut feeling here. Why risk it?
Once upon a time, as the hardest of hardcore Bucs fans will remember, Adrian Clayborn hit Tom Brady in joint Bucs-Patriots practice — where no contact with the QB was allowed.
Let Blaine Gabbert handle 11-on-11 with the other backups.
Arians added that Brady will have a full mental-rep workout next week and be doing plenty of coaching.