Will The Competition Start Tomorrow?
May 24th, 2021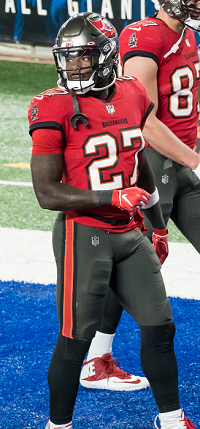 Joe's eyes will be focused on one major position tomorrow when the Bucs begin in-person practices for veterans at One Buc Palace, also known as OTAs.
Some players will attend the voluntary workouts; many will not.
But what about the Bucs' four-headed monster at running back? All those talented backs — Ronald Jones, Leonard Fournette, Giovani Bernard and Ke'Shawn Vaughn  — want the rock and expect to contribute this season, and three out of four are in a contract year.
No matter what Tom Brady, Bucco Bruce Arians and Carlton Davis have said about it being ok/advised/preferred for some players to stay away, the reality is that every darn session is an opportunity to impress the coaching staff.
Four running backs are competing and nobody wants to lose an edge. Yeah, no role is won in May, but a foundation to win one certainly can be set before June.
If you were Fournette, would you stay home knowing RoJo could be there?
Joe certainly would advise RoJo to show up. That could be the difference between the organization letting him get 1,000 rushing yards this season rather than gifting Antonio Brown extra cash so he can pay embarrassing legal bills.
What about veteran Bernard, the newcomer general manager Jason Licht says will change third down this season? Bernard knows he's competing and will have a significant learning curve.
Vaughn has the outspoken backing of Arians and Licht but is fighting for his NFL future.
The running backs competition is stiffer than at any time in Bucs history.
Who's going all-in starting tomorrow?