Warren Sapp: Devin White Is Collecting Hall Of Fame Chips
May 26th, 2021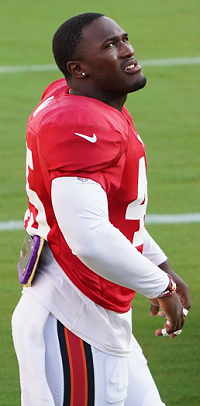 Bucs legend Warren Sapp still pays close attention to his Buccaneers, even though he's been ousted from mainstream media for more than six years.
(C'mon, Roger Goodell, you let Marv Albert back into league broadcasts after far worse lewd behavior.)
Sapp visited recently with the Are You Serious Sports podcast and was asked whether Lavonte David and Devin White are the best linebackers tandem in the NFL.
Sapp turned it into a conversation about White.
"If you can find me a faster middle linebacker anywhere on God's green earth, please point him out," Sapp pleaded. "Ray Lewis wasn't even as fast as Devin White. Devin White is an animal and he [and Lavonte David] are definitely the best [inside linebackers tandem]."
Sapp ranted on (like only he can) to explain that White absolutely is a top-5 linebacker in the NFL. And when Sapp and Derrick Brooks talk about defining all-time greats, Sapp explained, for them it's about how many years you were a no-argument, top-5 player at your position.
Collect enough top-5 years, per Sapp, and those are your chips to cash in when it comes to Hall of Fame consideration.
After White's 2020 postseason performance, there is no doubt he is worthy of the top-5 label as fans talk football and savor their Big Storm beers all offseason.
Was Lavonte David ever a top-5 at his position? Joe would say David has had four beastly years and some that are up for debate.
Regardless, David has racked up incredible numbers and consistency through four defensive schemes in nine seasons. That's as rare as it gets.
And now David and White approach Year 3 of their mind-blowing marriage.
Savor it, Bucs fans. It won't last forever.