Bruce Arians Talks Jameis: "You Have To Set The Personal Aside"
May 9th, 2021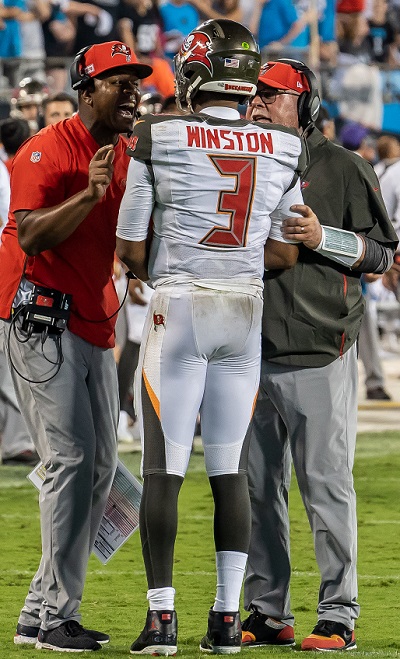 A little over a year ago, Bucco Bruce Arians was selling Bucs fans on the fact his team was just one player away.
Eliminate so many needless turnovers from the quarterback position and great things will come.
Joe believed it was a little bit of an oversell, a little too much #BlameJameis.
Last week on The National Football Show, Arians was asked about whether it was rough on him personally to give up on America's Quarterback, Jameis Winston.
"It was really hard," Arians said, noting how long he had known Jameis and what a hard worker he is.

"Yeah, it was [hard]. I wanted to see him succeed. But like you said, there's 52 other guys on the roster. You know, you look and see what's behind Door No. 2 at every position in the offseason. Does it make you better? Then you have to set the personal aside. I mean our players, our locker room still loves Jameis, [the guys] that played with him, and have all the respect in the world and wish him well. But when Tom became available, it was the missing ingredient for us to win a Super Bowl."
Joe finds Arians' answer extra intriguing because of the Door No. 2 line. Did the Bucs really do that this offseason? And if they did, did they determine they had/have a nearly perfect roster?
It's still amazing that Jameis was pinned for nearly everything that led the team to a 7-9 record in 2019, and it turned out to be on the money, culminating in a dominant Super Bowl win.