Jason Licht & Bruce Arians Expect A Staff Exodus
May 9th, 2021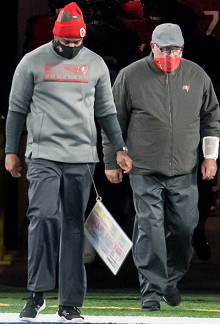 Last week, Jason Licht and Bucco Bruce Arians made it clear that their dream teams won't lost long.
The championship crew is good for at least nine more months, but it seems the Bucs honchos expect critical change in 2022.
"[Previous Bucs Super Bowl GM] Rich McKay did a great job here with his staff, and I'm kind of priding myself on hiring people like he did," Licht told Beckles & Recher on WDAE Radio. "You know, he had a star-studded cast of people working with him that went on to get some jobs. And I think that's going to happen here at some point because I have a great staff here of men and women."
Licht is in his eighth Bucs season and his staff has seen little change, and he already called contract guru Mike Greengberg "the real GM."
Speaking on The National Football Show, Arians reiterated that when his top assistants leave he will evaluate retirement.
Joe is confident that the Bucs marching to another Super Bowl or NFC title game this season will lead to significant losses from the front office and the coaching staff, unless Team Glazer is willing to cut some outrageous checks. And Joe's all for the latter.