A Season For History, More Contract Ammo
May 30th, 2021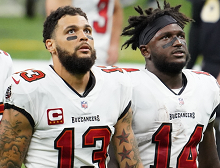 Joe's going to take a break from thinking about Chris Godwin potentially playing for the Jaguars or Eagles in 2022 and focus on more soothing daydreams.
Godwin, if he stays healthy this season, should have no problem hauling in 78 passes from Tom Brady. That's 5.2 catches per game, and Godwin averaged more than 6 in 2019.
If Godwin hits that mark, he will become the wide receiver with the second-most catches in Buccaneers history, right behind his running mate Mike Evans.
Think about that for a moment. The two most prolific receivers in team history would be on the same team, and they'd both be well under 30 years old.
That's just more evidence how special this time is for fans and the franchise; the superheroes are not in a book or on YouTube, they're on the field. Joe's trying to feel and express gratitude every day for living long enough to see all this following The Lost Decade that saw many Bucs fans quit and saw Joe age 20 years in 10.
Now imagine if Godwin does have another big year and becomes unquestionably worthy of No. 1 receiver money, aka $20 million-plus per season. Would the Bucs break the bank for him?
Joe think a lot of that answer could fall on Bucs rookies. Yes, rookies.
If first-round pick Joe Tryon plays like the real deal late in the season, then maybe the Bucs don't re-sign Jason Pierre-Paul and instead promote Tryon next season in order to pay Godwin.
Or if rookie Robert Hainsey has a couple of solid games at center because of an injury to Ryan Jensen, then maybe the Bucs find the money– and the confidence — to shed salary there in 2022.
In the meantime, Joe hopes Godwin cruises to those 78 regular-season catches. Joe would love to see it be made official — Godwin and Evans as the greatest receiver duo in team history.