Young, But Solid
May 30th, 2021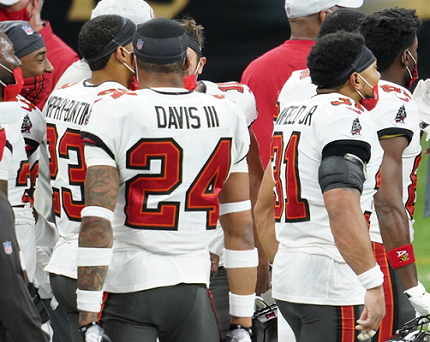 Nicknames for position groups in the NFL used to be a thing.
"Purple People Eaters" and "Steel Curtain" for defensive lines was cool back in the 1970s.
Then in the 1980s you had the "Hogs" for an offensive line and on the same Washington team, you had the wide receiver group known as the "Smurfs."
There hasn't been a cool nickname for a position group in a long time. But Joe thinks when the Bucs' secondary started glossing itself "GraveDiggers," that snapped the drought.
One of these days Joe has to get to the bottom of what specifically made the Bucs defense so horrid with Vernon Hargreaves on the field. The minute he left in 2019 (or to be more direct, got kicked off the team) the Bucs defense made an immediate turn for the better.
Much better.
Last year, especially in the playoffs, the GraveDiggers dominated. Shutting down Drew Brees, Aaron Rodgers and Pat Mahomes in consecutive games is damn impressive.
Then Joe read an answer by Scott Smith of Buccaneers.com to a mailbag question about the Bucs secondary.
Arguably the six top defensive backs on the Bucs — each drafted by Bucs AC/DC-loving general manager Jason Licht — are 25-years old or younger. The oldest is Mike Edwards at 25.
Let's say Carlton Davis, who is in a contract year, sticks with the Bucs beyond this season. Just how good could this secondary be as it gets a little more experience?
Perhaps the 2020 postseason season was just a sampling?
Always remember and never forget, a stat chick claimed the Bucs had the worst secondary a year ago.