"You Would Not Know It Was Tom Brady"
April 24th, 2021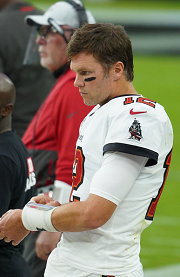 Joe never gets tired of a good Tom Brady insider story.
One true Brady insider is Buccaneers quarterback coach Clyde Christensen, and Christensen is a hell of a communicator and storyteller.
The former Father Dungy offensive coordinator in Tampa and Indianapolis has been coaching since the 1970s and, of course, has been around Tom Brady and Peyton Manning.
During a visit to Colts.com, Christensen was asked what separates Manning and Brady from other quarterbacks, even great ones.
Joe thought Christensen painted a great picture.
"Their ability to do it 365 days a year. You know, the average guy gets tired. The average guy gets tired at the end of eight weeks of working on the snap count or working on the center-quarterback exchange, much less eight years," Christensen said. "The thing I admire about them is how hard they work and they never get tired of doing the little mundane things the average people get tired of doing. They stay on their fundamentals. They make themselves study. In the summers, they're going to take care of themselves, they're going to put some time in. … They don't need that three-week break. At year 21 for Tom Brady, if I showed you individual [practice video] of Super Bowl Thursday, you'd see a guy competing and working, and looking like a guy that there was one jersey left for the game and he was trying to earn it. You would not know it was Tom Brady. Peyton was the same way. Through all those years, it's hard to do what they do week after week day after day."
It is extraordinary to think of Brady entering the 2000 NFL Draft, sitting around with an analog flip phone waiting for phone calls because, well, general managers, coaches and agents probably hadn't latched on to texting. Perhaps Brady killed a little time reading Al Gore's election website.
Yet here's Brady, still on top of the football world, grinding away and counting the days until he can bark orders at Scotty Miller to break his skinny post route more shallow on a Tampa high school field.