Leonard Fournette: Tom Brady Hounds Me On Team Bus
April 24th, 2021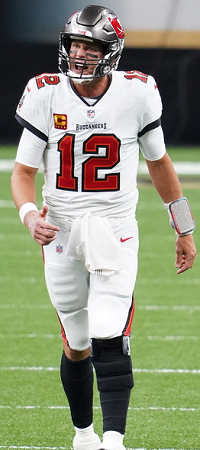 Joe's treating you to another escape from pre-draft stress with an iconic Tom Brady story.
Joe's been sitting on this one for a couple of months. It comes from Leonard "Playoff Lenny" Fournette during a visit to the R2C2 podcast at TheRinger.com.
Of course, Playoff Lenny was asked about Brady during the show, and he delivered with a gem.
When road games end, it seems Brady hits the showers, answers a few minutes of media questions on Zoom and gets to work — on a team bus as it prepares to depart for an airport runway.
"'I've learned a lot from him," Fournette said of Mr. Seven Rings. "You know what I mean? Understand his work ethic, you know, soon as we get on the bus he's watching film. Listen, I might be dead asleep and he'll come tap me, like, "Lenny, you made a bad cut.' I'm like, 'What?' He's like, 'You made a bad cut.' I'm like, 'I'm going to sharpen; I'm going to fix it. I'm gonna fix it.' That's the type of guy you need around you; I ain't going to say "need," you will want around me. Everything he has, it just rubs off on you. You want to be that great."
Man, Joe loves that story. There's Playoff Lenny, resting his battered and tired bones in a luxury bus seat, drifting off with music in his earbuds waiting to fly home, and Brady's tapping him on the shoulder and literally shoving a tablet in his face to watch a play.
That kind of stuff is why Joe's not worried about the 2021 Bucs getting complacent.
---
DRAFT PARTY!
3,000+ Square Feet Of Covered Outdoor Seating!
Plus indoors!

Thursday night, April 29!
Giveaways, special guests, and more. Ira Kaufman and Joe will be in the house starting at 7 p.m.
Two lucky fans attending will each win a $300 American Express gift card thanks to Joe's friends at Florida's Elite Restoration. (More cool Bucs giveaways, too.) Joe is fired up for a great time with Florida's best craft beer, amazing food and great fans. Joe loves Big Storm Clearwater,