Tom Brady: "I Got Like A Little Sickness In Me That Just Wants To Throw A Frick'n Spiral"
April 7th, 2021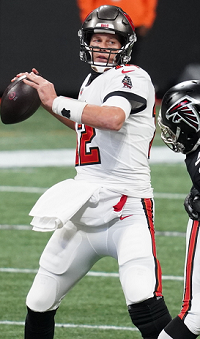 Tom Brady did one of those fluffy, non-sports morning shows today, something called Good Morning America.
Joe shared the teaser yesterday, with Brady talking about his personal motivation, but he expanded on that in today's cut.
It seems Tommy just likes playing football.
"I don't think provin' it for me is the motivation," Brady said passionately. "Like I still want to play. You know, I got like a little sickness in me that just wants to throw a frick'n spiral. You know what I mean?"
Joe is confident everyone knows what Brady means; he loves the game and will quit when either he sucks, is hurt, or his wife threatens him.
Perhaps the best nugget from the interview was host Michael Strahan revealing that Brady says he'll be back to resuming some football activities by the end of April following postseason knee surgery.
---
Enjoy today's Ira Kaufman Podcast, presented by Bill Currie Ford.