Starstruck Every Day
April 16th, 2021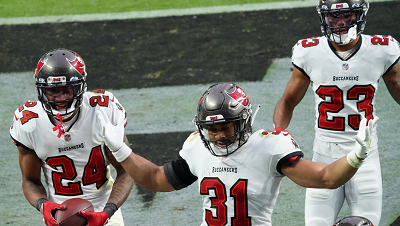 It made no difference to Antoine Winfield, Jr. that he grew up with a dad in the NFL and playin with Adrian Peterson on the Vikings sidelines.
Winfield entered the league just about as NFL-ready as any player could be, and still he was starstruck by what he found at One Buc Palace.
The Bucs' stud young safety — Ice up, Cheetah! — was asked on the Behind The Mask podcast about whether he was in awe looking around the Tampa Bay locker room when he arrived. Winfield said he most definitely was and it did not end.
"I did that every day," he said. "Every day I walk in, I'm like, 'Look at all these players in this locker room. This is crazy. I grew up watching all these guys; now I'm out playing with them.' It's surreal."
Of course, Winfield was asked about Tom Brady's impact and/or for a Brady story. Winfield simply explained that Brady's approach to every minute of practice is something he's trying to emulate. And he shared that before the Super Bowl he overheard a Brady-Rob Gronkowski discussion about a specific pass route that was delivered in such detail by Brady that Winfield felt he had never heard anything like that before.
Fun stuff.
As for 2021, Winfield said more takeaways is a major personal goal for him, and he was adamant that the Bucs are under no pressure to repeat as Super Bowl champs. The only pressure, per Winfield, is to come out and work hard every single day.