Leonard Fournette Says He's Still A Fourth Overall Pick
April 16th, 2021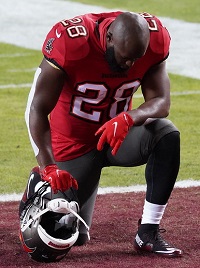 Leonard "Playoff Lenny/Lombardi Lenny" Fournette is steaming with confidence and last night he acknowledged the fierce competition brewing at One Buc Palace.
While visiting NFL Network, Fournette spoke about choosing to return to Tampa Bay for 2021 and the unity among his teammates. "I didn't want to break it up," he said.
Of course, a $4 million contract with little threat of being overworked behind a beastly Bucs offensive line had to have been an attractive factor. But Fournette sounded like a guy who would prefer his old workload with the Jaguars.
He told Total Access that "it's tough" to keep a healthy competitive balance among all the Bucs running backs, noting that everyone wants to be the No. 1 back, including newcomer Giovani Bernard.
On flipping the switch like he did after being benched following the Bucs' bye week, Fournette said he wants everyone to know he's still the beast who came out of LSU in 2017.
"I got my opportunity, you know, showing everybody why I was drafted fourth overall," Fournette said. "You know I'm still that same guy when I was with [Jacksonville]. I had a point to prove, most definitely. It's a great story I can tell my kids, my grandkids, from being cut and performing the way I did through the back end of the season and becoming a Super Bowl champion with my teammates."
And what a story it is. Fournette clearly was having an issue with his status behind Ronald Jones last year, but wise coaching and the football gods dropping a thumb injury and The Sickness on RoJo came at just the right time.
Joe loves that it's going to be a dogfight for a starting running back gig come training camp. Joe just hopes none of the RBs gets injured in a worthless preseason game after a future grad student/mattress mover drills him late.