"I Could Have Played An Extra Game"
April 6th, 2021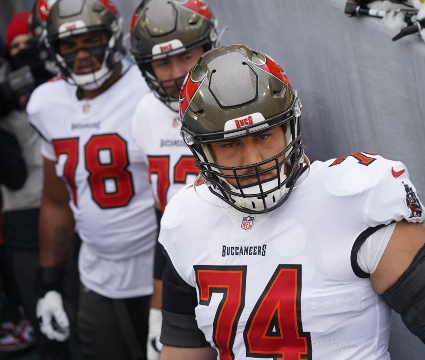 After an unprecedented 2020 season, here comes another season like no other. It's going to be a 17-game ride to the playoffs, and a champion Buccaneer was talking about it last week.
Some haters accuse Super Bowl left tackle Donovan Smith of playing lazy and not always being properly motivated. (Haters!) So they might be surprised that Smith feels great about a 17-game schedule, so he told The Matt Lombardo Show.
The Bucs' seventh-year ironman of the O-line said an extra game creates more opportunities for NFL players, and after last season, Smith said he already knows he can go the distance and beyond.
"I felt like after the Super Bowl I could have played an extra game, so we'll be all right," Smith said.
That is one benefit of the Bucs' long run through the Super Bowl last season. These guys already know they can go 20 deep and still dominate. What other current NFL team can say that?
Still, Joe wants to see the Bucs score that opening-week bye in the playoffs to refresh their legs, especially along the defensive line.