Draft Temptation At Corner
April 10th, 2021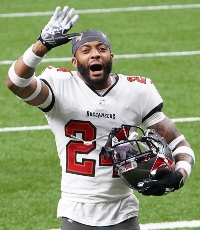 On this fine Saturday, Joe is remembering the multiple times Bucco Bruce Arians has called Carlton Davis a top-10 (or better) cornerback in the league.
And there's Aqib Talib earlier this year calling Davis an emerging top-5 NFL corner.
Davis is entering the final year of his contract and will earn about $2.4 million for the 2021 season.
A quick look at the top-6 cornerback salaries in the NFL reveals a range from $15 million to $20 million per year. Salaries of the next six corners in line run about $13.5 million per season. So it's a safe bet that 24-year-old Davis will expect a massive raise if he stays healthy and continues as the Bucs' No. 1 corner.
Might uncertainty surrounding Davis, and a desire to bring competition to Jamel Dean and Sean Murphy-Bunting, lead the Bucs to draft a cornerback in Round 1?
It certainly helps that there's a flood of top cornerback talent in this draft.
Joe wonders how much Todd Bowles and his staff would love to get their hands of 20-year-old Kelvin Joseph out of Kentucky. He's raw and talented (four picks last season) and doesn't turn 21 until mid-November. And then there's the fun skillset and polish of Asante Samuel, Jr. He's the son of the four-time Pro Bowler, and he appears very NFL-ready after starring at Florida State. Both are projected as late first-round picks.
In a passing league, it's impossible to have too much cornerback talent, and Joe truly believes competition is a beautiful thing. And the Bucs don't have that at corner.
And what if the Bucs do bring home back-to-back Super Bowls? Davis might be content and very ready to take the biggest paycheck available.