Aqib Talib Says Carlton Davis Will Become A Top-5 Cornerback, Bucs & Chiefs Are Identical
January 30th, 2021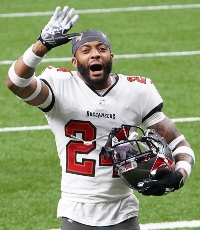 Five-time Pro Bowl cornerback and former Buccaneer Aqib Talib is now a rising media star hosting one of Joe's favorite podcasts: Call To The Booth.
Nobody calls it straighter than Talib, and he does a lot of homework.
Hanging out this week on The Jim Rome Podcast, Talib talked about how much he watches Bucs cornerback Carlton Davis. And Talib was adamant that Davis has everything it takes to be a top-5 NFL corner and that he will get there.
Still, Talib said, that doesn't mean the Bucs should put Davis on an island with Tyreek Hill like they did two months ago, when Hill torched the Bucs for more than 200 yards in the first quarter.
For Talib, the Bucs have to double Hill all game because he's the toxic combination for defenses: incredibly shifty with the best straight-line speed in football.
"Carlton Davis … his confidence and his heart match with his skill," Talib said. That's what it takes to be a Top-5 corner in the league, and he has all that. But you see, they left him to treat Tyreek Hill like he was regular, you cannot do that. It's impossible to do that. I don't care who's guarding him."
Zone defense or man defense, Talib says it won't matter much what the Bucs play in the Super Bowl — and the same goes for the Chiefs.
"It's two teams [in the NFL] that got the perfect quarterback for zone, the perfect quarterback for man [defense] and the weapons around them to not allow [a defense] to play man," Talib said.

"And then both of these teams like to man on defense. It's like two identical teams, man. It's tough. It's tough. It's the young Tom Brady versus Tom Brady himself, you know what I'm saying?"
Talib is a former teammate of Brady and says, "I'm the biggest Tom Brady fan in the world." But he's slowly leaning toward the Chiefs having just a little to much for the Bucs, including in the coaching department.