Draft Is Likely Turning Point For Antonio Brown
April 8th, 2021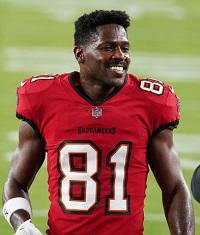 Various analysts are weighing in with a message that the NFL Draft — 3 weeks from tonight! — is a likely turning point in the Antonio Brown free agency saga.
Former Bucco Bruce Arians friend and emergency QB in Indianapolis, Pat McAfee, spoke on his SiriusXM Mad Dog Radio show about how Arians is excellent when it comes to drafting skill positions and it's unlikely the Bucs will budge on their offer to Brown until after the 2021 draft.
Joe made that point on The Ira Kaufman Podcast two weeks ago; maybe the Bucs indeed take a baller of a receiver late in Round 1 and subsequently move on from Brown.
Moving on to ESPN, Brown's recent workout video with Ravens QB Lamar Jackson had the desired effect. Today it was the core of an entire TV segment on Get Up (aka Stay In Bed).
A consensus opinion was that the Ravens may be waiting on signing Brown until after Round 1 of the NFL Draft. That chatter surrounded Baltimore possibly drafting tall LSU speedster receiver Terrace Marshall, Jr. at No. 27 overall. Baltimore already signed receiver Sammy Watkins in free agency to a one-year contract for $5 million plus incentives last month. He's not as good as Brown — and Brown is probably hoping to get close to that salary.
Noted Tom Brady insider Jeff Darlington, of ESPN, added that Brown is treating his time now as a true free agent would, rather than waiting on the Bucs.
Joe's starting to wonder if Brown might wait to sign until after injury season (aka training camp and preseason). It sure worked for him — and the Bucs — last year.