Body Focus For Tyler Johnson
April 8th, 2021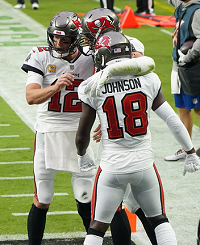 One guy Joe suspects wouldn't mind seeing Antonio Brown star for the Bengals next season is Bucs receiver Tyler Johnson.
Entering his second NFL season, Johnson will struggle to see the field if Brown is back complementing a healthy dynamic duo of Mike Evans and Chris Godwin, and playoff hero Scotty Miller. There's only one football and Johnson would have to stay patient under that scenario.
While Johnson and every Bucs fan waits out the Brown saga, Johnson talked a bit to TheAthletic.com about his post-Super-Bowl feelings.
There was little to the interview, but twice Johnson mentioned care for his body is a major focus. And if a player repeats himself with emphasis, Joe pays attention.
Here is Johnson's first body reference:
How would you say you grew in the last year? Where did you take the biggest steps forward from getting drafted to now?

Being able to take care of my body. I had to adjust to how to take care of myself, knowing my limits. I made that big jump. I know what I have to do moving forward and I'm going to continue to keep getting better with that.
The "knowing my limits" line is intriguing.
Did Johnson try to play through something he shouldn't have and it led to his training camp injury? Joe's not taking a shot at Bucs doctors/trainers, only wondering if Johnson tried to tough out something without communicating.
Regardless, NFL-level body care is a huge learning curve for many rookies, and the talented ones that make life-changing modifications usually have long careers.
This all reminds Joe of when Josh Freeman's Taco Bell addiction was revealed.