Alvin Kamara Says Bucs More Prepared, Hungrier
April 3rd, 2021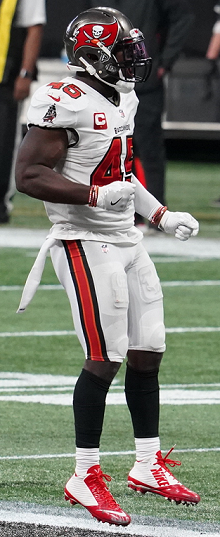 What sweet music this is.
All-world Saints running back Alvin Kamara, the four-time Pro Bowler, seems to know the torch has been passed in the NFC South.
Speaking to the Club Shay Shay podcast this week, Kamara sounded humbled by the Bucs' performance in the playoffs. He threw around plenty of Tampa Bay love and then got specific.
"I think when one team is more prepared than the other, I mean, it's kind of like, 'What can you do?'" Kamara said of January's playoff loss.

"You know, we came in; we felt good. Everybody talks about, "It's already hard to beat a team once. It's hard to beat a team twice. It's almost impossible to beat a team three times — blah, blah, blah. I don't really think we were concerned with that. Man, I really couldn't even tell you. We felt good and we thought we were prepared. It just turned out that they were more prepared than us. And I guess they had a better plan."
If that wasn't fun enough, Kamara went on to say this of the Bucs' postseason defense:
"They was tired of getting their ass whooped. (laughs). Literally, they were tired of getting their ass whooped and they played like it, you know," Kamara said.
 "They played like a defense that was like, 'Hey, we talked about this all week. And we talked about not letting it happen, and it's not going to happen.' You know, respect to those dudes."
---
Enjoy Saturday's Ira Kaufman Podcast, presented by Bill Currie Ford.