The Bucs And Kyle Trask
April 3rd, 2021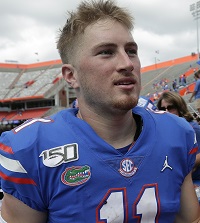 Joe's going here today for three reasons — and no, Joe is not a flag-waving Gators fan of any kind.
First, it's a beautiful Saturday and perhaps you have a little extra time to read David Whitley's fun and witty GatorSports.com column on Kyle Trask being a quarterback fit for the Bucs in this month's draft. Joe really got a few laughs from Whitley, and from Steve Spurrier's backhanded compliment to Trask at Florida's recent Pro Day.
Second, Bucco Bruce Arians says he's very ready to draft a QB, and it seems obvious he's not going to be in position take one of top-tier, top-5 guys, so maybe it's Trask, the big pocket passer who's probably more Mike Glennon than Tom Brady.
Lastly, former Bucs scout and Jets personnel executive and linebackers coach Pat Kirwan picked Trask for the Bucs in Round 1 (No. 32 overall) in his SiriusXM NFL Radio mock draft yesterday.
Joe might vomit if the Bucs invested a first-round pick into Trask. But assuming the many QB geniuses at One Buc Palace believed in Trask, Joe certainly could stomach the Bucs trading down out of the first round, ending up with more picks and taking Trask quite late on Friday night.
If Arians wants Byron Leftwich to take the Bucs' torch from him, and prepare a QB for him, then one could think Arians would want to groom a pocket kind of guy to fit his offense.