"We Do Have The Best Scouting Department In The NFL"
March 31st, 2021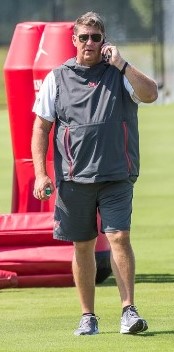 General manager Jason Licht and his staff won an award recently, and Licht and two of his comrades went online to accept it.
Inside The League is a networking company designed to help people employed inside the NFL. Joe has seen them working their magic at the NFL Scouting Combine. If you want to advance your front-office career, for example, they can help.
What Joe did not know is that Inside The League CEO Neil Stratton awards a Best NFL Draft award annually, and the Bucs won the honor for last season recently.
Licht, along with director of college scouting Mike Biehl and director of player personnel John Spytek, joined a non-profane YouTube recording to thank the academy.
"I'm biased, but I feel like we do have the best scouting department in the NFL," Licht said.
Licht went on to praise the pandemic leadership and creativity of Biehl and Spytek finding unique ways to evaluate players from home. Pro Days were cancelled, scouts couldn't travel and the Bucs succeeded by focusing on the tape and picking the right players.
Spytek also praised the scouting department's preparation and creativity for last year's draft, and he said it was all a byproduct of how well the team was prepared before the pandemic changed everything.
"They make my life easy," Licht said of his top executives.
So let Joe add this up. Licht just won a Super Bowl, has the best scouting department in the NFL, and has been universally lauded for historic salary cap management this offseason. When is Team Glazer going to give this guy a raise?