"Throwing O.J. Back In The Mix"
March 31st, 2021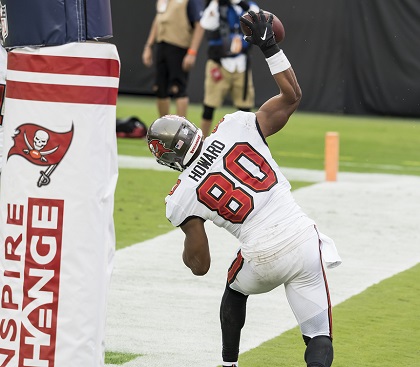 The old saying, "the rich get richer," sort of defines of the 2021 Bucs as they look to stomp the groin of the NFL en route to back-to-back Super Bowl wins.
Everyone knows the Bucs re-signed all their key free agents except for furniture-tossing, bicycle-hurling, rape-case-pending Antonio Brown. That's a Grade A+ for general manager Jason Licht, who is the first executive to get all his Super Bowl starters back the following season in the modern era of the NFL.
The Bucs have crushed the offseason, and yet there was Bucco Bruce Arians yesterday talking to local reporters about how much better the Bucs will/should be out of the gate in 2021.
In addition to the team's experience together, Arians referenced a fully healthy Vita Vea on opening day along with "throwing O.J. [Howard] back in the mix."
Yes, O.J. Howard. About five minutes before mentioning Howard for that take, Arians went on a rant explaining how Howard is doing great after Achilles surgery, had a great Weeks 1 through 4 last year and is on track to be full-go for training camp.
Indeed, the rich get richer.
Consider that veteran tight end Cameron Brate came off the bench for Howard and caught a whopping 82.4 percent of the balls Tom Brady threw his way during the regular season. That was a career high for sure-handed Brate, who also added 14 catches for 175 yards and a touchdown through the playoffs.
Dare to imagine for a moment that Licht and the Bucs nail the draft again this season. If so, the 2021 Bucs could be the best team in NFL history.