Tristan Wirfs Describes "General" Tom Brady
March 4th, 2021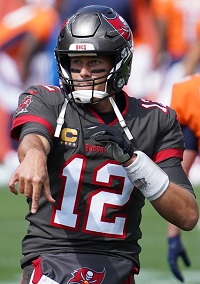 For Joe, the insider takes on Tom Brady never get old.
Brady writing handwritten letters to non-football players and coaches at One Buc Palace is one of Joe's personal favorites.
Superstar rookie right tackle Tristan Wirfs was talking on the Hawkeyed YouTube show recently and painted Brady as the Bucs' true commander-in-chief.
"It's pretty crazy just the way that he kind of controls practice. It's like he's a general," Wirfs said. "Everyone gravitates toward him and they listen."
Whatever order comes from The General, per Wirfs, be it a tempo change or tweaking receivers routes and more, "He'll say it and it happens like that (snaps fingers)."
Wirfs went on to say Brady really flips a personality switch in a practice environment and then again on game days, adding that the Brady off the field is laid back and easy to talk to, nothing like the field general.