A Gerald McCoy Return?
March 4th, 2021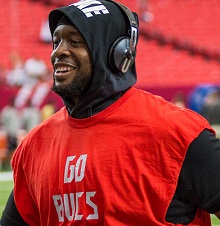 Joe is not trying to cause traffic accidents and induce diarrhea among a sect of Bucs fans.
However, this did appear on NFL.com and it's certainly not ridiculously farfetched.
The league website did a bit of free agency matchmaking for every NFL team. Joe bought into the click and to Joe's surprise, there appeared a "match" for Tampa Bay in free agency.
It's a familiar face: six-time Pro Bowler Gerald McCoy.
The Buccaneers are spending the weeks ahead figuring out how to keep each and every one of the players Bruce Arians declared aren't going anywhere during their Super Bowl boat parade, but they also need depth along the interior defensive line. McCoy can be had for cheap, considering his last stop didn't go very well (his contract was terminated by the Cowboys after suffering a ruptured quadriceps in August), and it would also make for a nice homecoming. Sure, he missed out on a ring with the Buccaneers in 2020, but why not close out his career chasing one with the same team for which he once starred?
Author Nick Shook is likely correct when he says "McCoy can be had for cheap." That's a given for any 33-year-old defensive tackle coming off a major injury.
But making this most interesting to Joe are three factors:
First, McCoy is a beloved figure by many in the Bucs locker room to this day, and he's quite friendly with his draft-year buddy and former rival Ndamukong Suh.
Second, McCoy is exactly the kind of nostalgic guy who would love a return to his former team, soaking up the spotlight of a sea of prime-time games, playing with Tom Brady and potentially adding a ring to his impressive career — at a discount.
Third, DT Rakeem Nuñez-Roches earned $1.5 million last season and it's a solid bet that another team will be willing to give him a hearty raise in free agency after making 11 regular-season starts for the Bucs. So the Bucs may indeed be seeking inexpensive and experienced defensive line help.
Joe knows McCoy plans to continue his career but cannot speak to McCoy's health. However, Joe does know a McCoy return would be great theater, and certainly a move with great potential upside if McCoy could recapture some of his former glory.