Tom Brady "Is Not Going To Wait Until He's Falling Off The Bridge"
March 8th, 2021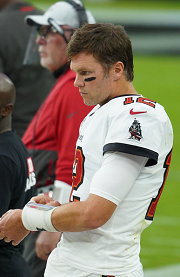 So what will a Tom Brady contract extension look like and really mean?
Brady is under contract for 2021, but Team Glazer and Bucs officials need more salary cap room to sign their long list of special free agents.
That's Brady and the Bucs' cap gurus come in. Brady renegotiates and adds years to his contract and, poof, creative accounting clears from for the Bucs in 2021 and money gets spread over the life of the contract.
But what if the Bucs extend Brady through 2024 and then Brady retires after the 2021? That's ok. He wouldn't be paid his salary during a year in which he's not playing, and whatever signing bonus money Brady gets for 2021 still can be spread around.
There's good momentum on a deal, and longtime Brady friend and former mentor Charlie Weis was clear this morning on SiriusXM NFL Radio; Brady will not milk the Bucs just to finish a contract. Per Weis, Brady will walk the minute he feels that he's no longer Superman.
"When Tommy thinks he's on the way down, he'll walk away. He's not going to go out with deteriorating skills," Weis said. "I mean, he's not going to wait until that happens. He's not going to wait until he's falling off the bridge."
Joe believes Weis, who scored one of the rare preseason interviews with Brady. When you win seven Super Bowls and you're a very old man in football years, there's no reason to stick around. Brady isn't Vinny Testaverde or Steve DeBerg.
That reality should bring comfort to the Bucs as they look for Brady to sign a fat new contract.