The Bucs & Cordarrelle Patterson
March 6th, 2021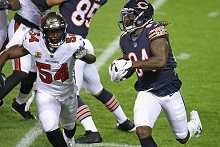 It's rare to see a four-time All-Pro hit the free agent market in his prime.
And it's also rare to see a Bucs team with a dangerous return game.
Dynamic returner/receiver/running back Cordarrelle Patterson, a man who won a ring Tom Brady three years ago and earned his fourth All-Pro honor last season, is a pending free agent.
As a returner, Patterson is a terror, the Devin Hester of this generation. As a receiver, he's nothing special, maybe an intriguing No. 4 option. As a running back, he's a unique puzzle piece averaging 6.1 yards per carry over 167 career rushes.
So why is Joe typing about Patterson?
Well, if Chris Godwin walks in free agency, a guy like Patterson could be in play to sign along with free agent Antonio Brown or Breshad Perriman to bolster the Bucs receiving corps at a savings. Remember, Perriman played plenty of slot receiver for the Bucs in 2019, in addition to being an outside threat.
Patterson, who turns 30 this month, earned about $5 million last season with the Bears, amassing more than 1,000 kick-return yards and taking one to the house. He was a handful for the Bucs in the Bears' Week 5 win last season, catching three balls for 38 yards and averaging 40 yards through three kick returns.
No, the Bucs do not need Patterson to win another Super Bowl. But a superstar returner that's also a versatile offensive piece might be more valuable than, say, tight end depth.
Again, Joe can only imagine the Bucs considering Patterson if Godwin leaves the team and, of course, if Brady has warm feelings about his season with Patterson.
Per Boston.com, Brady loved the guy.
"I call him 'The Experiment,'" the Patriots quarterback said.
"Just because he can do it all," he explained. "We're all just trying new things with him. I just love what he does."
---
Enjoy Friday's Ira Kaufman Podcast, presented by Bill Currie Ford.