"We Ended Up Playing Our Best Game Of The Year"
February 7th, 2021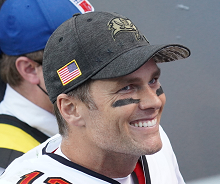 During the strangest NFL offseason in history, with players having spring "practices" on ZOOM and emailing strength and conditioning staff videos of themselves running sprints, nearly every team crafted the same goal.
Survive the early chaos, the elimination of preseason games and joint practices, and then find a way to survive early and then peak in the second-half of the season.
The Bucs did that better than every other club.
"We ended up playing our best game of the year," Tom Brady said tonight after the Bucs' 31-9 blowout win over the Chiefs.
The Bucs are now riding an eight-game winning streak, a franchise record. They came back from the bye week and just got better and better and better.
The defense not only found consistency late in the playoffs, they significantly raised their games under the pressure of facing Drew Brees, Aaron Rodgers and Patrick Mahomes.
Brady mentioned the Bucs have "a rough month of November," but then settling in to one of the great playoff runs in NFL history.
It sure was the best the Bucs played all year — your Super Bowl champion Bucs.