The Wisest Move
February 7th, 2021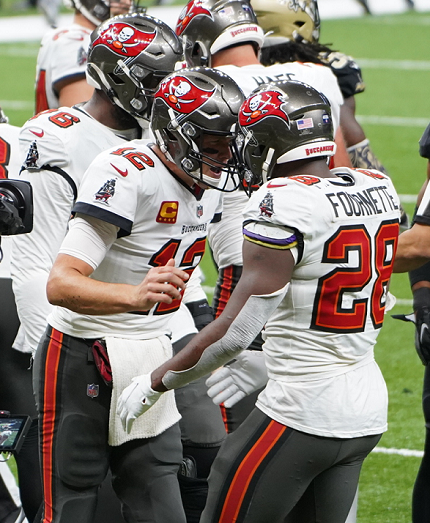 Unlike other media, Joe is a Bucs fan to the core and doesn't hide it or pretend to be objective.
Joe wants the Bucs to win and abhors anything that stands in the way of that.
So that is why Joe was screaming and screaming and screaming for the Bucs to add depth at running back last spring and summer. And it's also why Joe was appalled that other Bucs media had the audacity to say the Bucs were all set at running back after drafting Ke'Shawn Vaughn.
Joe even heard local media types rumbling that Jason Licht would never draft a running back in the third round only to bury him under established veterans that he hadn't yet signed.
Joe was mocked and laughed at by too many for begging publicly for Licht to make a draft-day trade for Leonard Fournette — one was offered — or to sign him later. And Joe was trumpeting that the Bucs should at least take a hard look at Devonta Freeman.
The Bucs drafted Vaughn and Joe kept screaming. And then the Bucs made their moves for LeSean McCoy and Fournette. The latter, a Sept 1 signing, was perhaps the most critical move this season outside of landing Tom Brady.
Including the playoffs, Fournette carried the ball more than 10 times in eight games. The Bucs won all of them.
Fournette scored eight touchdowns in those games and caught 34 balls. He was dominant in the Super Bowl and strong all playoffs, including a tackle-breaking, historic rumble for a touchdown in the NFC Championship game. Fournette pass blocks and catches better than Ronald Jones, and Joe's not sure the Bucs have a ring without him this season.
"Playoff Lenny" is about to become a somewhat expensive free agent, and the Bucs have a big decision to make.
Maybe it's an easy call to let Fournette walk and get paid elsewhere, or maybe it's an easy call to re-sign him and hope he can duplicate what he did in 2020.
Never mind it's Super Bowl Lenny Now….

— 7⃣ Leonard Fournette (@_fournette) February 8, 2021