Shaq Barrett Unleashed: "I Told Him He Was A Scrub. I Told Him He Was Trash. He Gotta Take A Train Home."
February 8th, 2021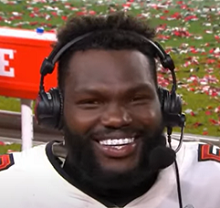 One of the truly nice guys of the Buccaneers roster got awfully annoyed yesterday and, hell, the season is over so he let loose his rage memories on national television.
Bucs sackmaster Shaq Barrett is a family man of deep faith and he always plays a clean game. But the chippy and mouthy Chiefs, specifically right tackle Andrew Wylie, got under Shaq's skin in yesterday's historic Super Bowl.
"No. 77, he was talking so much he made me mad. I was coming at his neck all game," Shaq said.
Shaq doesn't even remember (allegedly) what Wylie was saying to him, but he does remember what he fired back.
"I told him he was a scrub. I told him he was trash. He gotta take a train home," Shaq screamed to to the NFL Network cameras.
Fun, fun stuff.
The short video interview below gets cookin' at the 30-second mark.