Steve McClendon Says He Will Return If Given The Chance, Reveals Todd Bowles' Pregame Message
February 22nd, 2021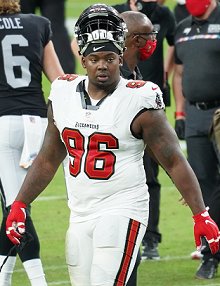 One of the great NFL stories of the season came via the Bucs' midseason trade for 11-year veteran defensive tackle Steve McClendon.
McClendon learned of the October deal that would send him from the Jets to the promised land (aka Tampa) on a Saturday, but the deal couldn't be official until early the following week. What did McClendon do? He played the next day for the winless Jets, the club dumping him and shedding talent from its roster.
Speaking on CBS Sports Radio recently, McClendon said his decision was about "morals" and wanting to be beside his Jets teammates after a strong week of practice.
Now that's a high-character, 34-year-old football player!
McClendon also talked about why the Bucs were so great this season.
"Our preparation is by far the greatest I have seen in a long time in the NFL," said McClendon, who spent seven years with the Steelers and was part of their 2010 Super Bowl season.
As if on cue, McClendon explained that Tom Brady raises every player's game via his extreme work ethic and leadership presence. And McClendon said defensive coordinator Todd Bowles was drilling into every defensive player during Super Bowl preparation that the game didn't have to be close and the Bucs were completely ready to stop the Chiefs.
He added there was widespread belief that with two weeks to prepare, Bowles would be more than ready to stifle the Kansas City offense.
McClendon was adamant that he has no plans to retire and he will return to the Bucs if they want him back.