Jason Pierre-Paul Says Bucs Are Destined To Repeat
February 22nd, 2021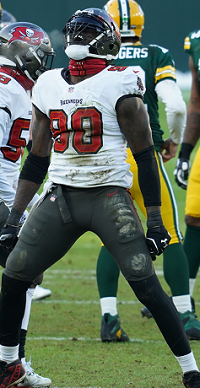 Sometimes Joe wonders what runs through the heads of Giants fans when they watch Jason Pierre-Paul play for the Bucs and hear him talk about his new world.
The Giants unloaded JPP to the Bucs for a third-round draft pick in March of 2018 — and the Bucs cashed in big. In fact, JPP visited CBS Sports Radio recently and noted that he plans to play at least three more years of football.
In classic JPP fashion, he opened the interview saying, "I can't complain. I'm living on earth."
Asked about repeating as Super Bowl champions next season, JPP said it's destiny of the front office gets the job done.
"I'll tell you this; if we get the same group of guys back on the team, we have no choice but to run it back, and I know that for a fact that we can," JPP said. "Because just the way that we came together at the right time and clicked at the right time, you could not put that in a movie and cast it again.

"And just knowing the boys that we have and our defense. Our defense (voice now raised) is real. If you think that nine-pointer we did was a fluke [against the Chiefs in the Super Bowl], we'll do it again."
JPP went on to say Todd Bowles is a coaching genius and then dropped this gem that should reverberate through One Buc Palace. "Bring Shaq back and we'll be ok," he said, referring to free agent Shaq Barrett.
JPP also said the magnitude of him being a big part of a second Super Bowl win hasn't sunk in.
 "It hit me, but it still ain't hit me yet. You know what I'm saying?" he said.
As for Mr. Seven Rings at quarterback, JPP said Tom Brady is already back to work. "He's back on it. Brady's back on his game. He's in studying, doing what he needs to do to try and win the next one."