Ndamukong Suh Says He Plans To Play In 2021 And Wants It To Be In Tampa
February 1st, 2021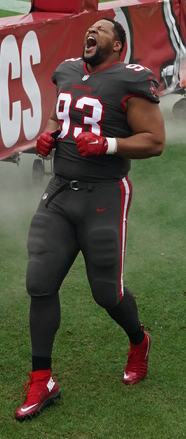 Joe just got a question in for Ndamukong Suh during the NFL's virtual version of Super Bowl Media Day/Opening Night.
Most fans are unaware that Suh served as his own agent last winter for the first time. It was big No. 93 who sat down with Jason Licht's right-hand man, Mike Greenberg, to hammer out a contract. Greenberg said Suh was very formidable when it came to negotiation.
Today, Suh told Joe that he enjoyed playing agent because he got everything in real-time versus a late-night phone call from his agent.
Also, Suh says he plans to do it again — with the Bucs.
Joe asked Suh if expects and is planning to play next season. The 34-year-old's one-year contract expires next month. Suh said he plans to play and hopes it will be with Tampa Bay.
So there you have it. Suh wants to keep anchoring the NFL's No. 1 for the third consecutive season.
Now can the Bucs afford him?