Thank You, Mrs. Miller!
February 1st, 2021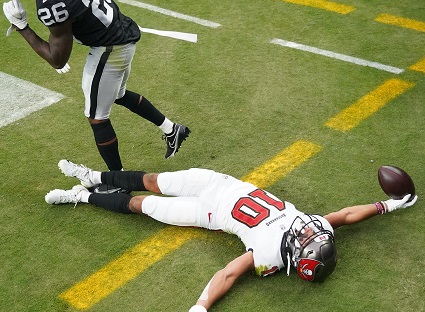 The story of Scotty Miller's breakthrough season, including his NFC Championship bomb of a catch, has a layer few Bucs fans are aware of.
In a very cool story on NJ.com, it's explained that when Miller was struggling to find a quarterback for regular training in the early days of the pandemic, he found one at home.
Miller's love, decorated college gymnast Jenna Rizkalla, stepped up to the line of scrimmage.
Well, you learn a lot about your loved ones during a time of crisis, and Miller was about to discover that woman he would soon marry had a rifle for an arm.

"I kept on telling him to back up farther and farther, and I kept hitting him," Rizkalla said with a laugh in a phone interview with NJ Advance Media last week. "A lot of people don't believe how strong my arm is, but luckily, we have it on video."

And, so, a pandemic routine was born in Tampa, with Miller running his routes and Rizkalla slinging the passes in their backyard or at local fields. They kept that up nearly every day in the spring and summer … until the new guy got to town.

"I was really starting to build up my arm strength during the pandemic," Rizkalla said, "but now Tom's taken over for me."
How cool is that!
Joe will let the short video here do the talking. Rizkalla cranks out a 33-yard pass below.