Lavonte David Gives Update On His Hamstring
February 2nd, 2021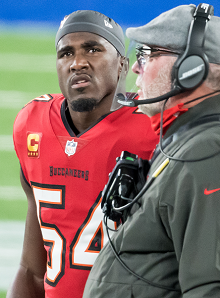 Five days from Super Bowl kickoff, Lavonte David didn't offer an inspiring up date on his injury.
After the Bucs' knocked off Green Bay last week, David appeared on the first injury report with a hamstring injury. The seriousness of it is unclear, on the heels of David starting every game this season.
Today, David held a news conference and served up the following on his hammy.
"I'm just taking it one day at a time, man, trusting the training staff, just getting better and better day by day, and on Sunday we'll see how everything go."
Damn, Joe would have preferred to hear David, an upbeat kind of guy, issue a more positive outlook.
The Bucs had a walk-through practice today, and will be on the field for more traditional practices on Wednesday and Thursday.