The Best Ever?
February 2nd, 2021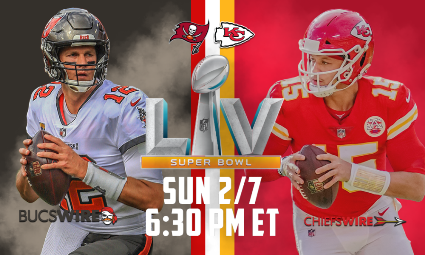 Various sources keep saying Super Bowl LV between the Bucs and the Chiefs, live from Tampa, pits the best matchup of quarterbacks in the history of the game.
Now Joe wasn't going to go there. The best matchup in Super Bowl history? Better than Terry Bradshaw vs. Roger Staubach (twice)? Better than Dan Marino vs. Joe Montana? Better than Tom Brady vs. Russell Wilson? Len Dawson vs. Bart Starr? Better than Ben Roethlisberger vs. Aaron Rodgers? Better than Roethlisberger vs. Kurt Warner? Better than John Elway vs. Montana? Better than Elway vs. Brett Favre?
That's an awfully steep mountain.
Of course, one can argue without too much effort that Pat Mahomes of the Chiefs is the game's current best quarterback. Park-violating, home-invading, NFLPA-ignoring, down-forgetting, handshake-stiffing, jet-ski-losing, biscuit-baking Bucs quarterback Tom Brady isn't far behind.
Good matchup? No doubt! Best? Let's slow down.
But then Joe noticed a graphic from CBS Sports HQ. It seems the Bucs vs. the Chiefs pits the two quarterbacks with the highest winning percentage squaring off on American sport's biggest stage.
So Joe guesses, yeah, Brady vs. Mahomes may be the best matchup in Super Bowl history. Imagine if those two light up the Tampa night sky on Sunday like the last time the Super Bowl was here, a true shootout between Roethlisberger and Warner.
Sooo #SuperBowl will feature the two QBs with the highest win percentages in NFL history 👀 pic.twitter.com/vKbiPixYzI

— CBS Sports HQ (@CBSSportsHQ) February 2, 2021