JPP The Barber
February 2nd, 2021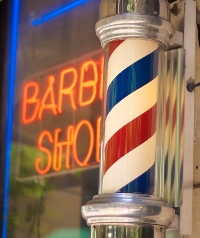 Jason Pierre-Paul may not be as colorful as former Bucs defensive end Simeon Rice. But as with most top-shelf pass rushers, they have to be, well different.
"I've seen JPP do some crazy things," Bucs linebacker Lavonte David said today.
This is David's second time having JPP as a teammate. The first was when both played JUCO ball at Fort Scott in Kansas. While there, JPP had sort of a second occupation besides terrorizing JUCO quarterbacks.
"JPP used to do my haircuts in school, in junior college, " David said.
JPP, despite being, well, a bit unique, he is also a rock of the earth kind of a guy.
"He's someone you can count on, someone you can trust," David said.
Former Bucs coach Dirk Koetter, who was here in JPP's first year with the Bucs, months after Bucs AC/DC-loving general manager Jason Licht stole him from the Giants, mentioned to reporters how he quickly became impressed with JPP being a man of his word.
JPP does not like OTAs. When they were held, he only showed up for mandatory minicamp if he wasn't excused.
His first year he told Koetter when he did show up he would be in shape. Koetter excused him and thought JPP was just giving him a check-is-in-mail line. When JPP showed up in terrific shape, Koetter said he never once doubted JPP again.
Bucs coach Bucco Bruce Arians learned that quickly as well. Four months after Arians was hired, JPP had a one-car accident on I-95 in South Florida and sustained a fractured neck.
"That car wreck, I was just hoping [JPP would] be able to walk," Arians said. "Football was the furthest thing from my mind. He told me, 'I'll be back.' And lo and behold, on his first play back he gets a sack."
Arians noted how JPP may be one of the best examples on the team in playing hardnosed football.
"Jason, he is amazing," Arians said. "He's a medical, genetic freak the way he can bounce back from severe injury.
He is a rolling ball of energy. Every single day. He's the best guy at playing injured and being tough that I know."
How cool would it be if the Bucs won sort of like the Steelers did the last time the Super Bowl was played here? Down a score in the final seconds, JPP crushes Pat Mahomes and forces a fumble sealing a Bucs championship.
For all JPP has gone through with his hand and his neck, it would be fitting if JPP belly-flopped on a fumble to win another Super Bowl ring.