It Was A Sign
February 8th, 2021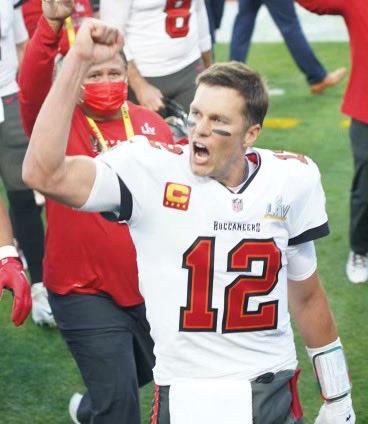 When Joe saw the above photo yesterday afternoon, if Florida had been a forward-thinking state with mobile sports wagering, Joe would have quickly dropped $100 on the Bucs.
At least.
It would have been money in the bag.
The photo was shot by Joe's photographer genius after pregame warmups as park-violating, home-invading, NFLPA-ignoring, down-forgetting, handshake-stiffing, jet-ski-losing, biscuit-baking Bucs Super Bowl-winning quarterback Tom Brady was leaving the field and heading to the locker room.
Did Brady look ready to play? Holy smokes was he locked in.
A picture tells 1,000 words and that photo sure does. It was an instant in time but it showed the will and determination of a professional. It's a man who had traveled that Super Bowl road many times and knew what it would take to win.
A man who was holed up in his house for 12 days by himself (outside of Bucs practice and meetings) to study and prepare, and get his mind right using his favored Mexican spirituality.
Did he look ready? In that photo, Brady looked as if he wanted to sack Chiefs quarterback Pat Mahomes himself. As if to say, "What is this 'baby goat' and 'kid' sh!t? You are in my house on my field trying to take my crown. Thou shalt not steal."
Of all the photos Joe's photographer genius took yesterday, and maybe all season, this one really, really resonated for Joe.
It's the photo of a determined man.
It's the photo of a man locked in.
It's the photo of a serial winner.
It's the photo of your Super Bowl-winning Bucs quarterback.