Five Key Postseason Reflections
February 11th, 2021
BY IRA KAUFMAN
Chris Godwin's cell phone rests in the bottom of the bay while the Bucs are sitting on top of the world.
That about sums up the state of the 2020 NFL champions heading into what figures to be an intriguing offseason.
Can the Bucs keep all of their core players together? If not, is Tampa Bay now the league's No. 1 destination site for free agents?
Those questions will be answered in the next six weeks, but let's enjoy the moment for a while. Wednesday's boat parade was a glorious celebration for a franchise that earned its place in the sun.
Bruce Arians was correct when he crowed that the Bucs kicked Kansas City's rear end back to the Midwest. He lauded Tampa Bay's physicality — and that's a word that hasn't been used often to describe this club.
Let's take a look back at a stirring postseason run that rocked Buc Nation and proved once again that it's never a good idea to doubt Tom Brady.
BIGGEST PLAY: The Saints led 20-13 late in the third quarter and had all the momentum when Drew Brees faced a third-and-2 from the New Orleans 45. Tight end Jared Cook caught an 8-yard pass over the middle, but rookie Antoine Winfield knocked the ball loose with his right arm and Devin White recovered.
White's 18-yard fumble return set up a Leonard Fournette touchdown and the Bucs were soon on their way to the NFC championship game. If Winfield doesn't close quickly and force that turnover, the Saints are almost in FG range for a 10-point advantage.
If that happened, Tampa Bay's season would likely have ended right then and there in the Superdome.
BEST OFFENSIVE PLAYER: For most of the season, Fournette played a backup role in the backfield because Ronald Jones was having an exceptional year.
When a quad injury hampered Jones, Fournette took full advantage. In four postseason games, Fournette averaged 4.7 yards per carry and caught 18 of 21 targets for 148 yards. Overall, he averaged 112 yards per game from scrimmage and reached the end zone four times. The downside for Tampa Bay? That kind of clutch production will likely earn Fournette keen interest on the free-agent market.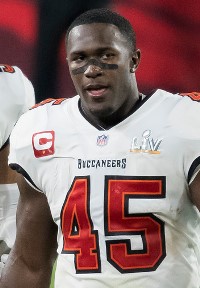 BEST DEFENSIVE PLAYER: White missed the playoff opener at Washington due to COVID issues, but he returned with a vengeance, racking up a combined 38 stops against the Saints, Packers and Chiefs. Add in two interceptions, two fumble recoveries, three tackles for loss and two passes defended and it's clear that White is now the face of this scary defense.
It's also worth noting that White played 100 percent of the snaps in each of the 18 games he played for the 2020 Bucs. Yes, he's brash, yes, he's boastful and yes, he backs it all up. Best of all, he won't turn 23 until next week. If he's not already the premier inside linebacker in this league, White's in the conversation.
UNSUNG AWARD: When the confetti dropped Sunday evening, Tampa Bay's offensive line deserved its own victory lap around Raymond James Stadium.
Tom Brady was dropped only six times for a measly 37 yards during the postseason and the run blocking in front of Fournette was superb. Tristan Wirfs, a rookie revelation at right tackle, led the way for an aggressive, nasty unit. Give OL coach Joe Gilbert and the unique job he does with assistant head coach Harold Goodwin credit for molding a maligned group into a major asset.
BEST COACHING DECISION: The Bucs already led Green Bay 14-10 in the final seconds of the opening half, but Arians wanted more. With Tampa Bay facing fourth-and-four at the Packers 45, both teams called a timeout to mull things over.
That gave Arians enough of a breather to change his mind about ordering the punt team on the field with 13 seconds left. Instead, Brady found Fournette for six yards and after another timeout, Brady hit Scotty Miller streaking down the left sideline for a 39-yard score that upped the advantage to 11 points.
"We didn't come here to not take chances to win the game," Arians explained. "I wanted to come out of there with points instead of punting it."
Bradley Pinion sat down and Arians stood tall. The Vince Lombardi Trophy was two weeks away.