Dream Team Fulfills The Dream
February 7th, 2021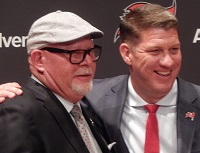 Who says you can't buy a championship?
The Bucs had two major goals this offseason: bring back the entire defense and go build the greatest offense the NFL has ever seen.
Tom Brady, Rob Gronkowski, Tristan Wirfs, Leonard Fournette, Antonio Brown, they all were major contributors in tonight's historic Super Bowl victory.
Team Glazer, Jason Licht and Bucco Bruce Arians went bold this year, including rolling with a crazy-young secondary, and it all hit the jackpot.
Flashback to 2009, and Buccaneers co-owner Joel Glazer said the following, which seems ridiculous on this glorious day: "Winning in March in free agency, very rarely do you see those teams in the headlines in January. You have to be disciplined to resist what can lead you down a dark path."
Thank goodness Team Glazer evolved and had a change of heart.
The Bucs pushed in all their chips in on this season and drew a royal flush.
Like every other Bucs fan, Joe is speechless and in awe.
Let's do it again next year!