Clyde Christensen Reveals A Saturday Night Hotel Trick Of Tom Brady And Peyton Manning
February 2nd, 2021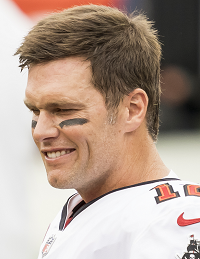 Bucs fans already have learned that Tom Brady sent his family away (literally) after Tampa Bay clinched the NFC title.
And some of that clear-headed study time might be used for a Saturday night tradition.
Bucs quarterback coach Clyde Christensen, once QB coach and offensive coordinator of the Colts with Peyton Manning, shared on The Pat McAfee Show this week that he's expecting a last-minute surprise or two from Brady.
To sum it up, Brady will be studying so much this week — from film to practice response — that it's almost inevitable he will come up with late additions to the Bucs' game plan, Christensen said.
"Brady was telling me the other day that he used to love to go into the [offensive] coordinator's room in the hotel and slip a couple of new plays on Saturday night before the Super Bowl under his door just to get him rattled," Christensen said.
Payton Manning would do the same thing on the night prior to games, Christensen said. Teammates grew to expect it, he said, but didn't love it.
"All the receivers, everyone's head would drop," Christensen said. "Manning would have a brainstorm, and they all knew that now here comes more learning or a new code word or something new. But that's part of the [Brady-Manning] genius, too.

"It'll say this: It's a headache and it's a pain in the neck, but usually if they do that, they make [the play] work because it's theirs. It's theirs. Like if they feel strongly enough about [a play], put it in because they're going to make the thing work.

"It might be just to stick it up your rear or because they just believe in it, but they will make that work."
Joe found that last sentence interesting. So a guy like Brady or Manning might have an idea knocked down during weekly planning, and then he revives it the day before a game to force it down a coach's throat. Fun stuff.
Yesterday, Brady talked about how it's obvious to him that Chiefs all-world safety Tyrann Mathieu studies a ton of film and will outthink opponents. Perhaps Brady will find a tendency to exploit on Sunday.
Keep studying, Tommy!