Bruce Arians Says Bucs-Packers, Bucs-Saints Film Was Ignored
February 2nd, 2021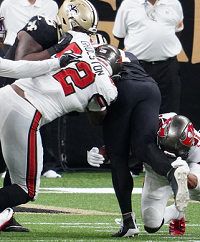 Interesting detail shared by Tampa Bay's fearless leader, Bucco Bruce Arians.
The head coach visited CBS Sports Radio this week and explained that in preparing for landmark playoff victories at New Orleans and at Green Bay, the Bucs refused to watch film of their October and November games against those same clubs.
Not worth it, Arians said. "We didn't even look at them because the [Saints and Packers had] changed so much."
Had Green Bay and New Orleans really changed that much since their midseason games against the Bucs? That's up for debate, but Arians' approach obviously worked.
The Bucs have changed a little since playing the Chiefs just after Thanksgiving, per Arians, but the Chiefs are the same team. So Arians said he believes the film from their matchup is filled with valuable info.
Arians gushed about what the Bucs did in the final three quarters to mount a comeback against Kansas City. If nothing else, if the Bucs are watching their success late against the Chiefs, at least they'll go into Sunday's Super Bowl extremely confident.