Bruce Arians On Jason Pierre-Paul: "Man, This Guy, He's Crazy"
February 2nd, 2021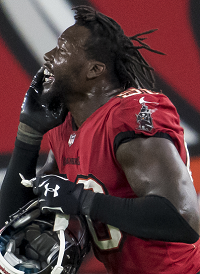 Yes, Jason Pierre-Paul is an absolute freak of nature and a freak of life, and everybody around him knows it.
He was that way in college with his unmatched athleticism and raw hunger for quarterbacks. The NFL quickly got a taste of his fury with the Giants — and the league then learned that JPP's fire and desire was enough to get him to sack tragedy.
In the summer of 2015, he blew digits of his hand in a horrific fireworks screwup. The explosion also blew up the franchise-tag he had left unsigned on the New York Giant's conference table. That didn't stop JPP, only slowed a little.
And then came a broken neck in May of 2019 a year after landing with the Bucs. He beasted right through the doubters and medical science to return to the field six months later with a thunderous sack in Tennessee on his first play.
This season? JPP tops the NFL with fourth-quarter sacks. He's got seven.
"He's a genetic freak, man; this guy, he's crazy," Arians told SiriusXM NFL Radio. "It's just what he can do at his age and bending, he's relentless, you know. He hates to come off the field. But it's like, 'Dude, I need you in the fourth quarter. We'll give you a couple of breaks here and there.'

"He loves to play the game. I mean, he loves to play the game. I'm so proud. You know he had two interceptions this year and it's unbelievable for him to even catch a ball. But for him to drop into coverage and then read a screen and pick it off, he deserves his Pro Bowl [selection]."
Arians went on to explain how amazing it is that JPP can have an array of pass rushing moves on both sides of the defensive line, and catch balls, with a disfigured hand.
"Just watching him come back from that car wreck last year, and where he was and where he got to so fast, first play of [his season] he had a sack after having a broken neck," Arians said. "I mean, he's just unbelievable."
Indeed, JPP has been a monster since arriving in Tampa. If the Bucs win the Super Bowl on Sunday and JPP has a strong day, one could argue that the 2018 trade for him (only a third-round pick) was the greatest trade in franchise history.