The Return Of The "Four-Man Rush"
January 27th, 2021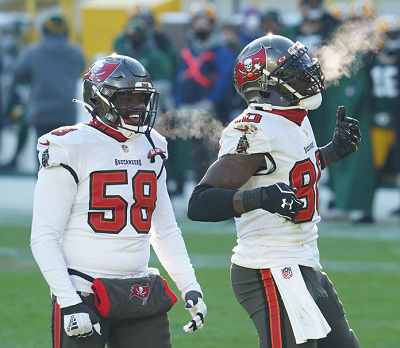 Early this season, it was said often that the only teams able to take down the Bucs would be those with a successful four-man pass rush.
That theory held for a while. If Tom Brady didn't have time, and the opposition had seven guys in coverage, it was a toxic combination for the Tampa Bay offense. (Then the Bucs' offensive line improved.)
So given all that, Joe finds it ironic that the Bucs' four-man pass rush is what propelled them to the Super Bowl. The rather dormant pass-rush unit exploded on Aaron Rodgers on Sunday.
Rodgers was dumped five times and the pass-rush clearly got in his head, much like it did back in October in the Bucs' blowout victory in Tampa.
Bucco Bruce Arians was gushing during his radio show on Monday about the quality of the Bucs' four-man rush, emphasizing how often it was the four-man unit Sunday rather than Todd Bowles' renowned blitz-happy scheme
Joe gives a ton of credit to Arians for being so focused on managing Jason Pierre-Paul's health through the season. JPP has a knee issue many would consider chronic, and Arians always is working to figure out — and adjust to — how to get him to gameday at 100 percent.
Whatever Arians and trainers did this season worked masterfully. JPP didn't miss a game, played about 90 percent of the snaps, made the Pro Bowl, and was a two-sack beast against the Packers. And just think about how great this extra week off before the Super Bowl is for JPP.
With Vita Vea back and injuries to Chiefs starters on their offensive line, there is legitimate hope that the Bucs' defensive front can dominate in 11 short days.
If the four-man rush can pull that off (you know the run defense will thrive), then Joe suspects the Bucs will reach the top of the NFL mountain.