Thank you, Tom Brady!
January 17th, 2021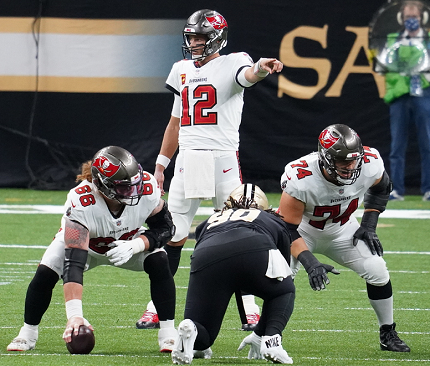 What an emotional night this is for Joe and every other Bucs fan, but not too emotional for Joe to be filled with gratitude.
Thank you, Tom Brady.
Thank you for restoring dignity and relevance to our beloved Buccaneers.
Thank you for delivering the greatest season by a quarterback in Buccaneers history.
Thank your for guiding the Bucs to the NFC Championship game.
The defenses for both teams came to play tonight at the Superdome, except when one had its head up its ass. Brady was not his best, but damn, if Chris Godwin catches that gorgeous second-quarter TD throw by Brady, this historic win would have put away even sooner.
Brady didn't win this game tonight; it was a collective effort, which is the very best kind.
One more game and the Bucs are in the Super Bowl. And for even more excitement, there's no reason The Goat can't do this again next season, especially with a full and hopefully normal season around his teammates.
General manager Jason Licht talked before the game on the Buccaneers Radio Network about what Brady has brought to the franchise on a daily basis that literally has transformed so many players for the better, guys who never have been around such an influential presence.
Amen to that.