Downright Stupid Defensive Play
January 17th, 2021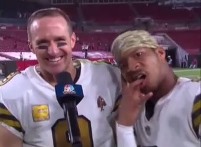 Joe knows his high school coach would have reamed his rear end for this. And guys (including the defensive coordinator) on the Bucs defense are getting paid handsomely.
The Saints, trailing 10-6 in second quarter thanks to a Sean Murphy-Bunting pick, seemed to be desperate. The Bucs defense was suddenly playing good and the Saints weren't moving the ball at will like they normally do against the Bucs.
So when you pull a Hall of Fame quarterback to insert Mr. Entertainment, America's Quarterback, Pro Bowler Jameis Winston, a guy known for throwing deep, do you think it just may have crossed the minds of anyone on the defense, including Bucs defensive coordinator Todd Bowles, that Jameis didn't step on the field in order to pick his nose?
Sure, Jameis lined up wide. That right there should have been the tip off something weird was going to happen. Hell, even Joe learned in high school playing defensive back that if something looked weird, that's because something weird was going to happen.
Sure enough, Jameis takes a pitch and launches a deep pass down the middle for a touchdown.
Joe thought to himself, "You've got to be sh!tting me?" The Bucs defense was caught with its pants down.
Saints took the lead 13-10.
Joe was just in disbelief. How can a playoff defense get burned like that so badly? Sean Payton all but displayed a giant sign that read "Jameis is throwing the ball!"
At this point, Joe doesn't care if Bowles interviews — and accepts — another gig. Joe won't cry if the Bucs are forced to trade a No. 1 rush defense in a passing league for a smart defense.
Jameis Winston's Pass TD to Tre'Quan Smith was the first Rec TD with at least 10 yards of separation in the playoffs in the last 5 seasons, per @NextGenStats pic.twitter.com/7pfOLtEW7r

— ESPN Stats & Info (@ESPNStatsInfo) January 18, 2021